Posted on January 9th, 2014 by
Tripawds is a user-supported community. Thank you for your support!
It is 11 AM and I am finally dressed for the day.  Long night and the wear is showing, I am looking like a ZOMBIE!  The vet called at 9AM and woke me up, out of a dead sleep.  I could barely speak, let alone,  answer the questions, but learned something very important.  Al told me that Holly could lick her staples a little, but  the tech said, "no licking is good licking, put on the collar if she continues".   My watch just got harder.  Also as Holly becomes more ambulatory (meaning she starts to walk), then I have to watch and worry about her more.  She actually jumped onto our very high bed, she continues to AMAZE us.  We have an intricate series of soft steps that we fabricated, but she just jumped right up.  She is still wobbly, but she is getting better each day.  The Tech also told me that the Fetanyl patch is at it's peak today, so she said don't worry if she doesn't eat.  I am also supposed to wean her from the oral pain medication, Buprenorphine, starting today, so I will watch for discomfort, before automatically giving her the pain meds.  Looks like Day 3 is getting harder,  ahhhh!!  I need a break, LOL!
I am posting this photo of Holly's incision, so hope it doesn't make the perspective Tripawd Kitty Moms and Dads nervous.  Actually, I think it looks great now, took a few days of getting used to seeing my sweet girl like this.  I simply can't wait until her hair grows back and she starts eating more.  She is losing weight and she doesn't have much to lose.  On this journey, PATIENCE is a VIRTUE!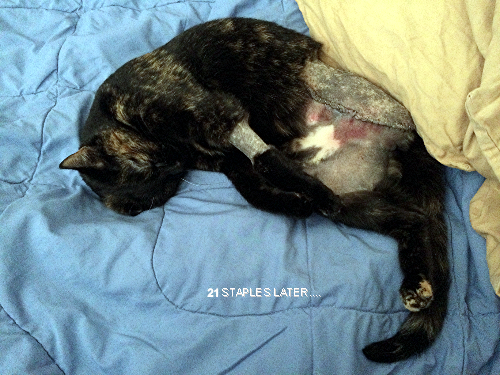 9 Comments »
Filed under: Uncategorized